#SignificanteSamples - Public Enemy - Welcome To The Terrordome (1990)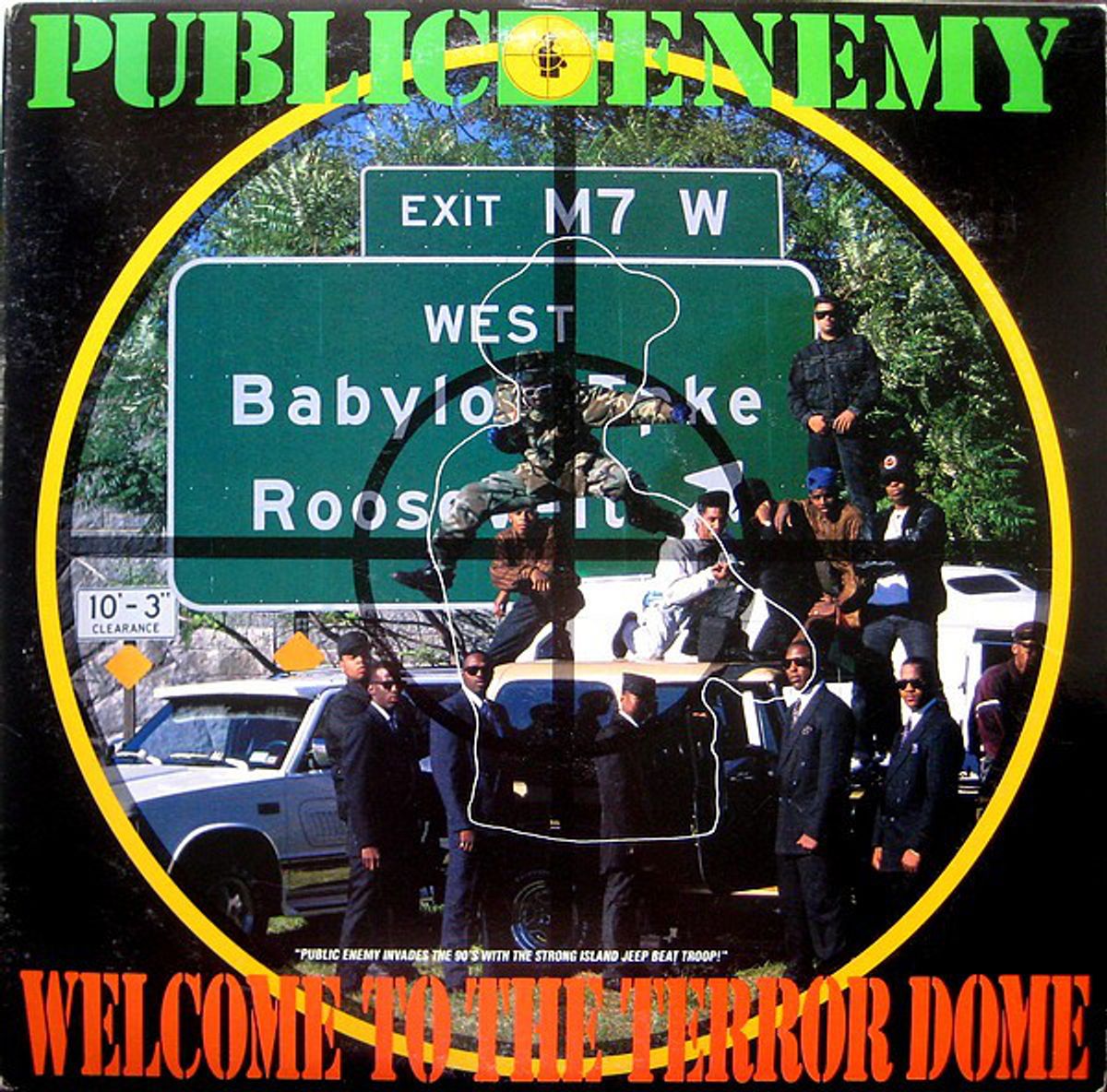 Twee parels voor de prijs van één. Een weekje samples die leiden naar het origineel dat op zijn beurt fascineert en prikkelt.
Een van dé samplegezelschappen bij uitstek was Public Enemy, die vaak meer tijd dienden te investeren in het "clearen" van tracks dan in het effectieve opnameproces in de studio.
Onze favoriete PE-plaat is 'Fear Of A Black Planet' uit 1990 en Welcome To The Terrordome bevat zo maar even twintig (20!) samples. Ze komen uit volgende - even diep ademhalen - nummers: Psychedelic Shack van The Temptations (1970), Train Sequence van Geoffrey Sumner (1958), Bon Bon Vie (Gimme the Good Life) van T.S. Monk (1980), Cold Sweat van James Brown (1967), Operator's Choice van Mikey Dread (1979), Cloud Nine (Live) van The Temptations (1969), Let A Woman Be A Woman, Let A Man Be A Man van Dyke & The Blazers (1969), I Got My Mind Made Up (You Can Get It Girl) van Instant Funk (1978), Seventh Heaven (Larry Levan Remix) van Gwen Guthrie (1983), Soul Power van James Brown (1971), Give It Up Or Turnit A Loose (Remix) van James Brown (1986), Jungle Boogie van Kool & The Gang (1973), I Got to Move van James Brown (1986), AJ Scratch van Kurtis Blow (1984), Kool Is Back van Funk, Inc. (1971), Bathtub Scene van de soundtrack van 'Scarface' (1983), Blues And Pants van James Brown (1971), You're Gonna Get Yours van Public Enemy (1987) en Every Dog Has His Day, ook van de soundtrack van 'Scarface' (1983).
Veel James Brown en - grappig - ze samplen, en passant, ook zichzelf met een Public Enemy-nummer uit 1987. Moet kunnen. Behoorlijk controversiele track en een verwijzing naar Welcome To The Pleasuredome van Frankie Goes to Hollywood, waarvan voorman Chuck D in 1990 in Keyboard Magazine verklaarde: "My job is to write shocking lyrics that will wake people up. Take Welcome To The Terrordome. How could I talk about 1989 and not talk about the band's confrontation with the Jewish community? It would've been false! But no matter what, if I mention the word "Jew" on a record, if I'm not explicitly praising the Jewish community, that record will be deemed anti-Semitic because people would just hear that word in a rap song by a group that allegedly said something about the Jewish community and interpret it accordingly."
"But I had to tell people what happened and how it happened, and a line like 'Tell the rab to get off the rag' is about what happened. I told Rabbi Cooper, 'Listen, I'll take care of the situation, don't worry about it, calm down,' and his attitude was, like, 'Everything's cool, I just want to know what's going on. These things can't happen, and if this is your group member, it doesn't make things look good for the rest of the group.'"
Benevens de politieke controverse ging het ook nog over Yusef Hawkins, een zestienjarige Afro-Amerikaan die in 1989 in Brooklyn in het nauw werd gedreven en vermoord door een groep blanke mannen: "First, nothing's worse than a mother's pain / of a son slain in Bensonhurst / Can't wait for the state to decide the fate / So this jam I dedicate / Places with the racist faces / Example of one of many places".
De vele lagen samples op Welcome To The Terrordome creëerden een monster van Frankenstein van noise en geluid. En de samples waren niet eens allemaal gecheckt. Altijd goed voor een forse procedure achteraf, want op dat moment was er eigenlijk geen sluitende juridische regeling. Die kwam er pas in 1991, toen songwriter Gilbert O'Sullivan een zaak won van Biz Markie, die ongevraagd een stuk uit O'Sullivans seventieshit Alone Again (Naturally) had gebruikt in zijn Alone Again. Dit had een serieuze impact op de samplebusiness, waardoor het voor velen te duur werd en ze gingen voor het naspelen van sommige stukken zover dat ze enkel de auteursrechten betaalden in plaats van rechten en platenlabel. 
25 november 2021